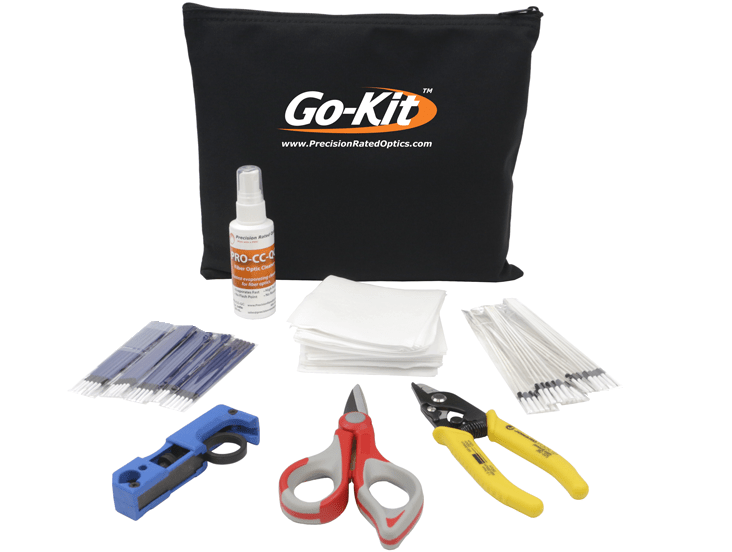 First Time Customers Get a Free* PRO-CKTK-BASIC Tech Kit with 4-week Rental of Fusion Splicer or OTDR
Go-Kit Canvas Bag
Jonard Kevlar Shears
Jonard Fiber Optic Stripper Three Hole
Ripley Buffer Tube Stripper
Lint-free Wipe 3″ x 3″ (100-count)
PRO-CC-AQ Water-based Connector Cleaner
PRO Wrapped Cleaning Stick 2.5mm (qty 25 sticks)
PRO Wrapped Cleaning Stick 1.25mm (qty 25 sticks)
---
*TERMS & CONDITIONS
Cleaver is provided with the splicers, spare set of electrodes are also available for purchase.
If required, OTDRs are supplied with a choice of adapter and launch cable. (FC or SC standard)
Rental periods starts the day the equipment is shipped to the customer and ends the day it is received back to our facility.
No cancellations will be granted after the product has been shipped.
Renter agrees to use equipment safely and return the product in as good condition as when originally received. If in default, renter agrees to pay the Fiber Optic Marketplace, LLC for any loss or damage of rental equipment.
It is the renter's responsibility to return the rental unit via an insured traceable means (e.g. UPS).
Rental promo is applicable to fusion splicer or OTDR rentals of four consecutive weeks or longer
Limit 1(one) per customer.
---
---
Rental Categories: Fusion Splicers, OTDRs, PON Meter, Power Meters, Light Sources, Optical Loss Test Sets, Optical Spectrum Analyzers, Bit Error Rate Test Sets, LAN Test Sets, Network Analyzers, RF & Microwave Test, Wireless Test
---